[Manual] Configuration Manager - License
NovaBACKUP DataCenter
Configuration Manager - License
This guide is only applicable to DataCenter version 7.
Renewing the License.
General description
The license is renewed and the licensing data shown in this dialog box.
Opening the dialog
1. Go to the menu bar and click on

Configuration and on the License tab.
⇨ The Configuration > License dialog box opens.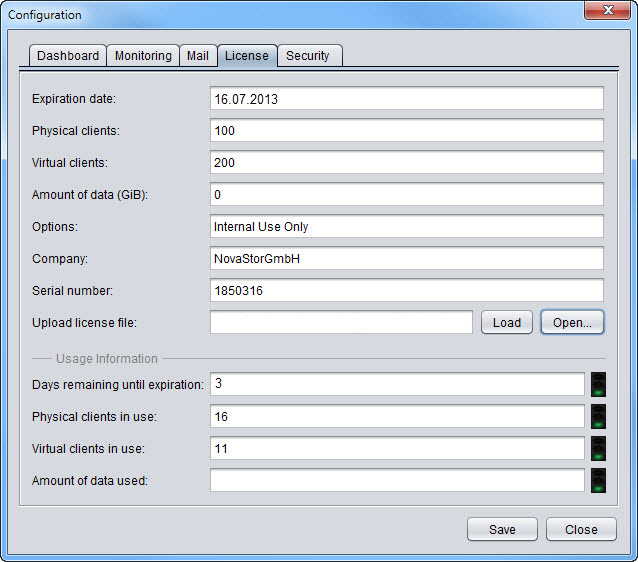 Saving and Loading the License
1. Save the license file (e.g., DC5_NovaStorGmbH.lic) sent by Novastor to a location of your choice on your system. The filename extension for license files is always .lic.
2. Enter the path to the license file directly into the text field or click on [Open] to browse to the license file.
3. Select the saved license and click on [Open].
⇨ The Configuration window opens again. The path to the new license is under Upload license file.
4. Click on [Load] to upload the license file.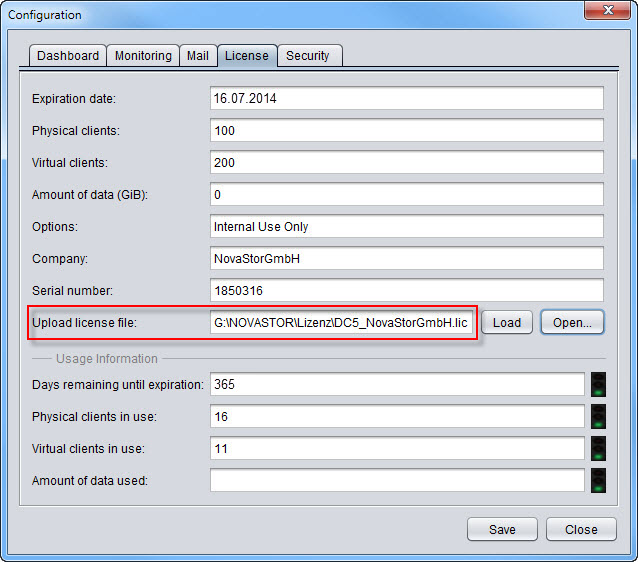 5. Click on [Save] to exit the window.
Result
The license has been renewed. The contractually agreed program functions are found in the configuration window.
To ensure that you are notified in time before the license expires, enter when you want to receive an e-mail reminder under Configuration > Dashboard.
Attachments