Thank You for using NovaBACKUP Cloud Storage for your Data Protection needs.
The first thing you need to do to utilize NovaBACKUP Cloud Storage is to make sure you have a License Key that has Cloud Storage associated to it. The easiest way to do this is to click on the "Cloud" option from the Home Tab of the software and follow the prompts.
Once you have a License Key with Cloud Storage included, you will need to make sure you have a Cloud Storage account created from within the software.
For complete Instructions, please see Getting Started: Connecting to Your NovaBACKUP Cloud Storage for the First Time
Essentially you need to [Register] to create a Cloud Storage account have the software to add the Cloud Storage Device.
If you have already created a Cloud Storage account, and your license key is valid for Multiple Activations, all you need to do is [Log In] and choose [Connect] if prompted.
If you will exceed the number of concurrent machines for your license, you will need to remove one using the steps here: Getting Started: Reconnecting to an existing Cloud Storage Bucket

Removing a machine will only prevent the removed machine from performing a backup to your Cloud Storage bucket, no data will be removed.
NOTE: Make sure to store your Cloud Storage login information in a safe place, as changing your password later will make previously backed up data unrecoverable with the new password.
If you started by clicking "Cloud Backup" on the Home tab, you will be taken to the Backup tab with the Cloud Storage device selected for you already.
Create, Save & Schedule your backup job like any other File Backup job in NovaBACKUP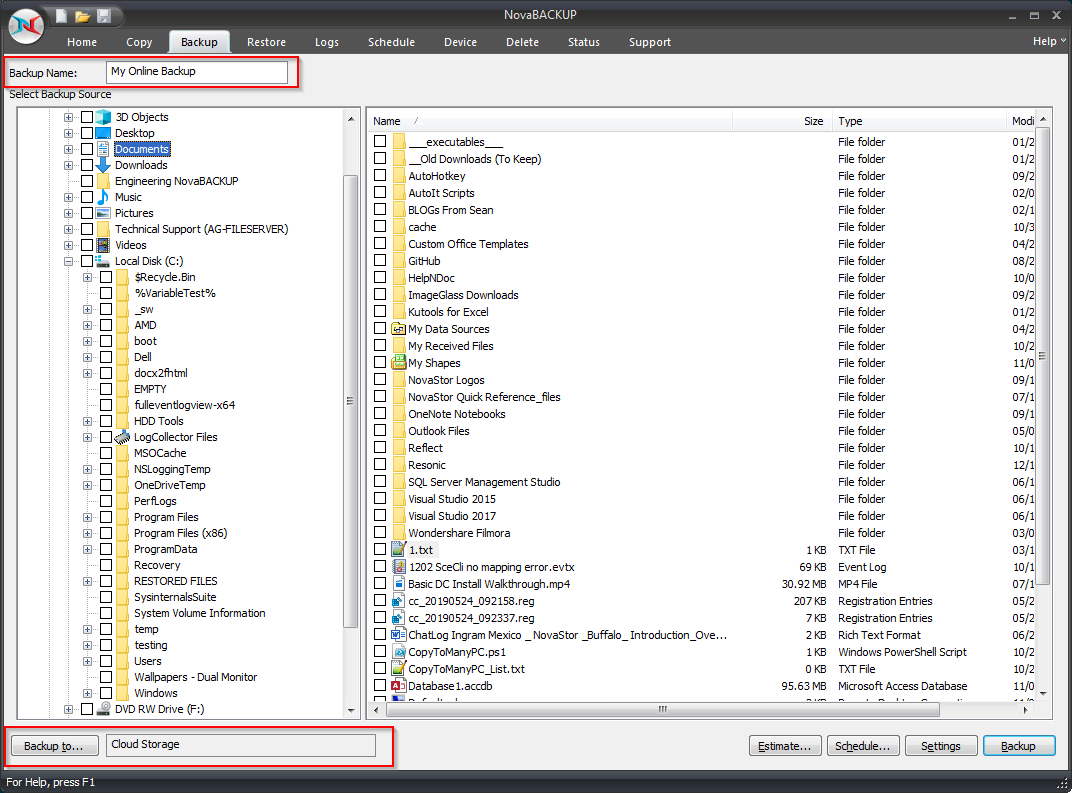 Make sure to choose "Cloud Storage" as the [Backup to...] destination

Most Users store their data in the following locations, making them a good place to start:

Desktop

Documents

Pictures

You should include any Critical Data in your Selection.

Always use the "FULL" backup mode when sending data to your Cloud Storage, only the information that has changed will be uploaded

Instructions on how to create and schedule a backup job can be found in these KB articles:
NOTES
The following types of backups should be performed to Local Storage devices, such as External HDD or a local Network Share

Image Backups

Virtual Dashboard Backups
Thank you again for your purchase of NovaBACKUP with cloud storage.
NOTE: NovaBACKUP Hosted Cloud Storage is located in Phoenix, Arizona in the United States of America. You are responsible for any and all compliance and/or regulations associated your type of business/industry or your geographical location.