This article will cover some Frequently Asked Questions from our customers regarding NovaBACKUP-Hosted Cloud Storage introduced in the beginning of 2020.
Some useful guides to start with:
Contents:
Questions & Answers
Q: How do I get Cloud Storage added to my Licence key?
A: The easiest way is to click on "Cloud Backup" when you open the software and follow the prompts to add cloud storage to your license key.
This process will include all discounts your license key is eligible for and allow you to renew your key as needed. Depending on how recently your key was purchased, the price is prorated based on the remaining subscription duration before it renews.
Q: How much space do I need for Cloud Storage?
A: Backups to Cloud only sends changes to data that has already been backed up to the Cloud.
We recommend only sending your critical data to the cloud to limit the amount of space needed for cloud storage, but the definition of critical data will vary for each customer.
A good place to start for the local storage you will need is http://backupcalculator.com/
NovaBACKUP Cloud Storage works especially well for files that have their contents changing.
NovaBACKUP Cloud Storage does not work well for files that are constantly being renamed or moved. Renamed or Moved files count as new files, and will be uploaded again in their entirety.
Also keep in mind that there is a "Restorable Window" of 30 days for data backed up to the cloud. If you perform a backup daily, and a file changes every day, there will be 30 versions of this file available to restore. If you only change this file monthly though, there will only ever be a single version of this file in cloud storage, as each time the backup is performed, the 30 days has passed, causing the window to be 'reset' for this file.
Always calculate the space that will be used if the software has to send the full file during a backup, to be safe and remain within your storage quota.
Example: You select 4 GB of data to send to cloud. The first time the backup is performed all selected data is uploaded. The next time the backup is performed, a comparison of what you have selected to what already exists in the Cloud Storage is made, and only the block-level changes are uploaded (if you change a filename or path, it counts as a new file). In this example, if you made 1 GB worth of changes to your initial 4 GB of data, only 1 GB would be uploaded for the second backup.
Using this same example (4 GB selected and 1 GB changes each day), with a backup running daily this would equate to 34 GB (4 GB + 30*1 GB) worth of space required in cloud storage.
More information about the FastBIT Technology used in this process can be found below.
Q: What is FastBIT Technology?
A: FastBIT technology is the component of the NovaBACKUP Storage Server that allows backups to be as small and fast as possible.
FastBIT utilizes a block-level comparison between files already backed up on the Storage Server and files on a client machine being backed up. Once the files are compared, FastBIT prepares and sends ONLY the differences at the block level between those two files, reducing the amount of data to be sent to the storage server significantly.
During the initial backup of files to the NovaBACKUP Storage Server the NovaBACKUP client will prepare a number of signature files (*.sig). These signature files provide the reference points for the block-level comparisons and are stored in the NovaBACKUP Temporary file location. When the next backup is performed, the client will use these signature files that have been created to quickly evaluate what files have been changed. After identifying the changed files, NovaBACKUP will run the block level comparison and prepare the appropriate FastBIT patch files to send to the server.
Go here for more information: Fastbit Technology
Q: How many machines can backup to the same Cloud Storage?
A: This answer depends on the license key you have.
NovaBACKUP PC has the ability to allow up to 5 machines to sign into the same cloud storage account. This requires a multiple-activation license key, and the desired cloud storage added.
NovaBACKUP Server and Business Essentials customers can only have a single machine perform a backup to the same cloud storage account, as these keys are only sold individually.
An additional restriction is that you cannot include files located on Network Shares in your backups to NovaBACKUP Cloud storage.
Q: Can I backup Network Shares to NovaBACKUP Cloud?
A: No, network shares are not able to be included in backups sent to NovaBACKUP Cloud.
If you attempt to do this an error message will be displayed related to "multiple computers included in backup" and the backup jobs will be aborted before sending any data.
Q: Is there additional space required on my "C:" drive for Cloud Backups?
A: NovaBACKUP needs about 115% of the size of the largest file in a backup available to perform the backup.
Example: You select a 10 GB file to send to Cloud Storage. NovaBACKUP will need 11.5 GB free (10 GB + 1.5 GB) on the "C:" drive to backup and compare the changes for this file before uploading it to your cloud storage.
Q: Can I perform an Image Backup directly to my Cloud Storage?
A: No, an Image Backup (Disaster Recovery / Bare Metal Backup) cannot be sent directly to Cloud Storage.
Using the information in the answer for "How much space do I need for Cloud Storage?": You can perform a backup to a Local storage device (such as a USB HDD) using "Overwrite mode" to always replace the existing backup and then create a Cloud backup job that includes this single backup file. The first time the file is uploaded it will include everything, each subsequent backup will only have to upload the changes that have been made to this file.
Restoring this backup should be primarily performed from the local storage device, but in case of failure you can restore this single file on another installation of NovaBACKUP on another machine to a local storage device, and then use the Disaster Recovery Boot Disk to restore the Image Backup as normal.
Q: What happens if I exceed my Cloud Storage quota?
A: Once you reach your Quota, additional data will not be allowed to be backed up to your cloud storage until you delete some that has been uploaded.
Q: How do I remove data from my Cloud Storage?
A: Use the "Delete" tab in NovaBACKUP to select the data you no longer want stored.
There is no capability to recover any data removed this way. Once you have deleted it from the Delete tab, it is deleted.
NOTE: This can be disabled server-side through the Configuration Manager on the General tab. The setting "Block delete requests from clients" directly impacts this. This prevents unintentional deletions from causing issues in the case of a Cryptolocker/Ransomware attack on a client system. This setting is enabled for NovaBACKUP Hosted Cloud backups.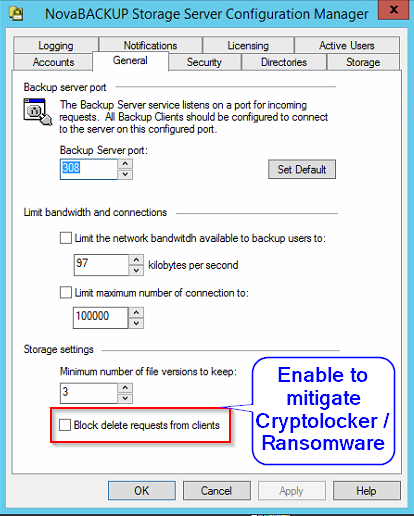 Server OS Troubleshooting
NovaBACKUP uses embedded Internet Explorer to add the cloud storage "device" within the software.
As a result, the default settings on Server Operating Systems are known to prevent successful Login to the Cloud storage system. There are a few things to look for in Internet Options that will allow you to connect NovaBACKUP to the Cloud Account:
Internet Options->Security->Trusted Sites->[Sites]
Internet Options->Security->Internet->[Custom level...]