NovaBACKUP PC/Server/BE v19 and newer
The retention rule checks for backups (files with the extension .nbd) under the tab "Backup" which backup files are available and which are due for deletion. Only then does the rule attempt to delete the files on the storage. Each backup file must have an entry under "Restore". This does NOT apply to image files (extension .ndf). Image backups are not shown in the media view.
If there is an entry under "Restore" for a file, and the file for this entry no longer exists on the storage (e.g. because it was deleted manually), the rule can no longer find the file and cannot delete it. In such cases, you will always find a corresponding note in the log. The rule tries to delete this file again the next time it is executed. To fix this, you can either manually delete the orphaned entry under "Restore" in the media view or activate the option "Remove index/logs even if the backup file cannot be deleted" in the retention rule for a one-time execution (=> tab "Advanced"). Thus NovaBACKUP deletes the files from its media view that it cannot find or delete. After executing this modified retention deactivate this option.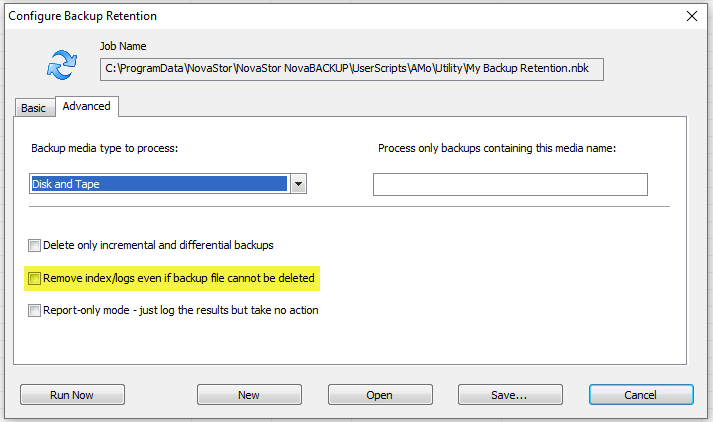 ATTENTION:
This will clean up the index even if the files are present but the retention rule does not have access to them, e.g. if a disk is not attached or the rule does not have access to a share. In this case you would have to re-import the existing files and create a new media view.
If you use the search function of this website with the search term "NAS" (wothout "), you will get a list of links to share-relevant articles. These articles describe how to configure the appropriate access rights for shares.


Note:
Conversely, the retention rule will not consider any files on the disk and will not delete them even if there is no entry under "Restore" for an existing backup file. Only after an import of such a file an entry exists again and the rule "sees" this file again.


Image Backups
are managed differently and are not listed under "Restore". But even with image backups, you can apply the above procedure via the image retention rule and clean up the image list.
AMo