Last Updated: November 15, 2021 4:50PM CET
If you have one of these recent Windows Updates installed, the backup of the System State > Registry will fail with NovaBACKUP 19.8 and older clients:

Server 2022 - 2021-10 Cumulative Update for Microsoft server operating system version 21H2 for x64-based Systems (KB5006745)

Server 2019 - 2021-10 Cumulative Update Preview for Windows Server 2019 (1809) for x64-based Systems (KB5006744)

Windows 10 - 2021-10 Cumulative Update Preview for Windows 10 Version 21H1 for x64-based Systems (KB5006738 and KB5007186, the second update being a cumulative update that also contains the first update)


Resolution methods:

Uninstalling the most recent update, mentioned above, should resolve the issue. Alternatively, de-selecting 'S

ystem State > Registry' in your backup job(s) would also fix this problem.



At this point, it is not likely that Microsoft will recall these particular updates, as they are likely security related concerns that prompted the changes. If they do not recall these updates then our next version of NovaBACKUP (version 19.8, due for release in December 2021) will address it and should fix it as well.
Edit 11/15/21: As of today other currently supported NovaBACKUP client OS's including Server 2012 R2, Server 2016, and Windows 8.1 are not affected by the most recent Windows Updates, as those OS's did not receive similar updates. It was also confirmed today that Microsoft did not recall any of these Windows Updates, so if you did receive the update it will have to be dealt with using the Resolution methods section above.
Warning!: The System Volume portion of our System State plugin may have an issue with backup on all NovaBACKUP versions, but only on Windows Server OS's. Some components (selections) of System State backup will not work if your Windows Server has the DFS Replication server role (role service) installed (Server 2008 and higher OS), and configured to actively syncronize folders on multiple servers. It likely would also be seen if the Data Deduplication server role is enabled (Server 2016 and higher OS). In many cases the issue will be seen, if DFS Replication server role, after the server role was installed, was then configured to actually syncronize folders on multiple servers and that role service is now active. But for instance on a server where the role service was installed but was not actually configured, and hence is not actively syncronizing folders, or possibly on a newer OS then it has been seen, then having the DFS Replication role service installed and even configured may not show any issue. To see if the DFS Replication role service is at least enabled, the quickest way to do that is to load Windows Services (services.msc) and check if the 'DFS Replication' service is enabled and is showing 'Status: Running' for the state (which only tells you if the role service was installed but does not tell you if it was configured), as is the case in this example: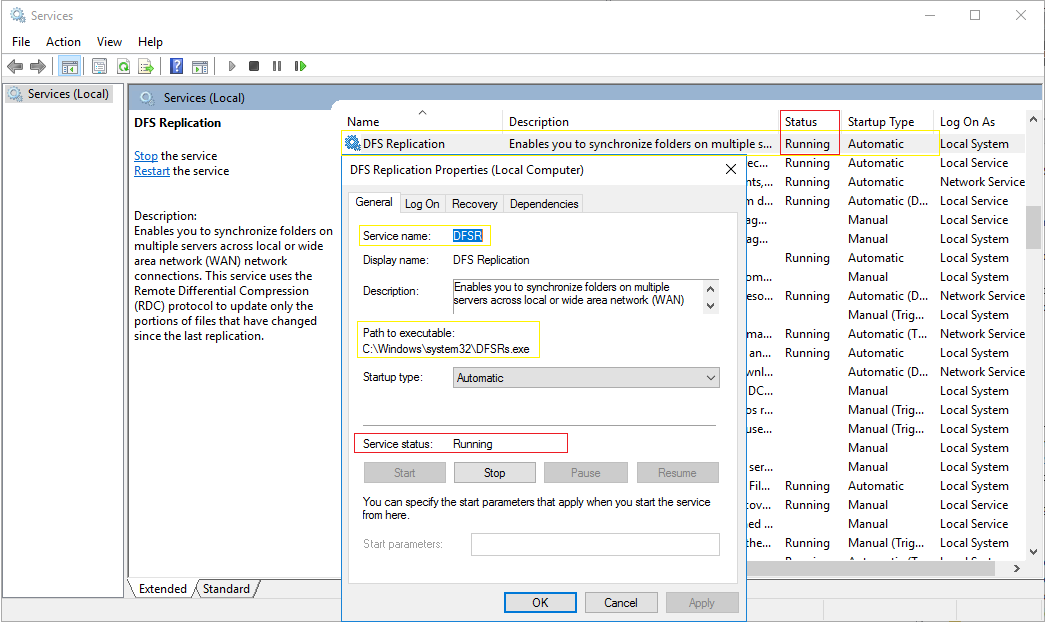 You can also check to see if the Server Roles are installed for either of the roles we mentioned, via Windows Server Manager, in the Add Features area, under the Select server roles area: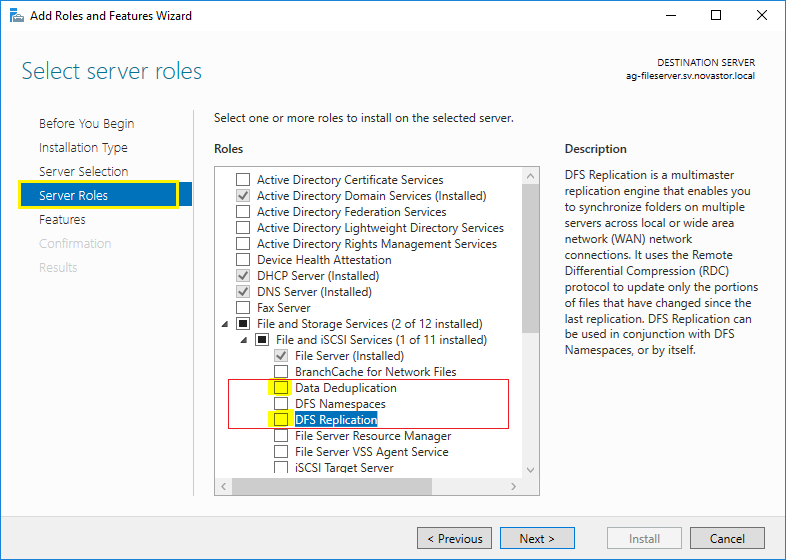 Note: To inspect to see how either of these server roles are actually configured you would have to use Windows Server Manager and go to the 'File and Storage Services' area, and utilize the guides linked above.
If 'DFS Replication' is enabled and running on a Windows Server OS, then you would have to disable 'System Volume' in the System State selection, and then try the System State backup again: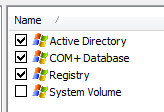 Note: For the above Warning issue, it is also possible that Anti-Virus software could interfere with the System Volume portion of the System State backup, so if that is the case you can also try disabling all Anti-Virus products on your system. It has been confirmed that Windows Defender does not cause this specific issue.