[Manual] Exchange Backup
NovaBACKUP DataCenter
Backup/Restore - Exchange Backup
General description
The Exchange backup function is used to back up databases.
Opening dialog
1. Go to Backup/Restore > Backup Jobs.
⇨ The Job Management window is opened.
2. In the Backup Jobs section, select > New > Single Job > Exchange in the shortcut menu.
⇨ The dialog for the definition of the backup job (Job tab) is displayed.
Defining job
On the Job tab, enter the name of the job and select the node, the server, the database and the backup scheme.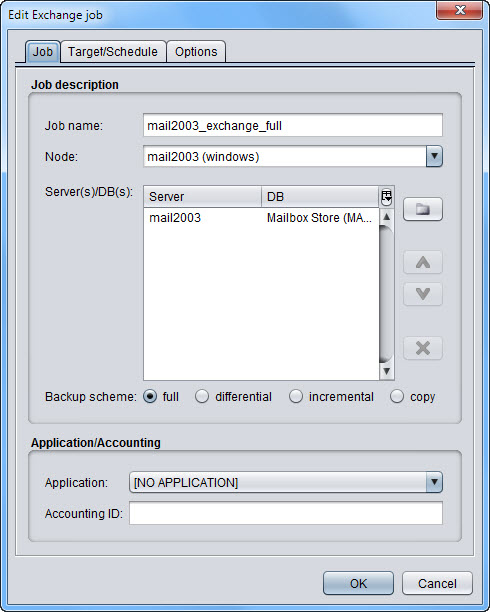 Job description panel

Job name

Text field for job name.

Node

Combo box: All systems that contain an Exchange database are listed for selection.
Server(s)/DB(s)

The databases to be backed up are listed here.

Opens a dialog for the selection of the Exchange databases to be backed up. All Exchange servers and the associated databases in the system are shown.

Backup type .

Custom DBs

Display of customer-specific databases.

Only the selected customer databases are saved.

Sorts the list of databases to be backed up. The sequence of the databases in the list corresponds to the sequence in which they are processed as backup jobs.

Reverses the selection made in the Server(s)/DB(s) window.
| | |
| --- | --- |
| Backup scheme | Select the backup scheme. |
| Full | The entire database, including the transaction logs, is backed up. The transaction logs are subsequently truncated to save space. |
| Differential | All databases that have been modified or created since the last full backup are saved. |
| Incremental | Only the files that have been modified or first saved since the last backup are saved (incremental or in full). |
| Copy | A full backup including all transaction logs is performed. The transaction logs are not truncated, as is the case with a standard full backup. They remain thus preserved in their full length. |
Target/Schedule
See Also Backup/Restore - Defining Target/Schedule
Options
See Also Backup/Restore - General Options
See Also Backup/Restore - Advanced Options
Attachments