[Guide] How to configure the 3 x DataCenter 7.x services to specify the Log On As user that matches the credentials of the network device that will be configured as a network location for backup
Note: For the matching guide for DataCenter 8.x services, read the article here.
DataCenter utilizes a "Log On As" user of 'Local System' by default for all of its own installed services, unless you are upgrading from an older version and had already had a change where you specified the services Log On As setting, in that case it will retain the old services Log On As settings during the upgrade. If you will utilize a NAS device or other type of network based storage location as a destination storage location for DataCenter to back up to, then you will likely need to follow these instructions on how to specify the 3 x DataCenter services to run as that user that the network device is configured for. For instance, we see most people that utilize NAS devices with DataCenter need to have this set otherwise they won't be able to even add the NAS to a Disk Pool to be utilized as a backup destination, since the service(s) that DataCenter uses are running as 'Local System', the NAS device does not know what 'Local System' is and will deny access to it. Unless the NAS is fully wide open to the public, meaning no restrictions, then you will need to do this step. You will need to know what username and password is utilized by your NAS / network storage device to allow for full read/write capability which DataCenter will require for backups to store to that network location.
These are the 3 x DataCenter 7.x Services to modify on a Command Server or the Backup Server in question for the Service Account / Log On As (Run As). In some versions of DataCenter, all of the DC service names may start with "NBK DC" instead of "NovaStor DC" as shown here: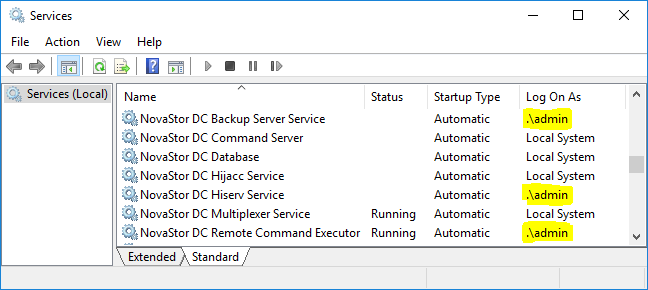 Now double-click on each of the above three services, and click on "Log On As" and specify that username and password (and domain if needed). Most NAS type network storage devices are not configured with Active Directory and so they utilize local users, created on the NAS device itself, so in that case be sure to leave the Domain Name field blank. If the network storage device, such as a NAS, has been integrated with a Windows Active Directory domain, you can go ahead and specify the Domain / User / Password now on the Log On As setting for the services without having to create any user locally. If the network storage device, such as a NAS, utilizes local users and is not connected to AD, then in that case you will need to create a matching user with the same password in Windows on the machine that you are configuring the Disk Pool to use with this network storage device. Create the local user using 'lusrmgr.msc', the lusrmgr - [Local Users and Groups (Local)], command in Windows on that machine, and specify the same password as the network storage device, making sure to add that same user to the Administrators group (otherwise not all services will be able to start if so), and then you can go to Windows Services and configure the 3 x DataCenter services displayed above to select that user and specify that password on those services so that the backup software can actually get to that network storage device. Example creating a local "admin" user in lusrmgr on the node that is your backup server, the backup server that will need to have a disk pool in place going to the target network location (Note: all Command Server nodes are by default enabled as a Backup Server, only those clients that have "Backup Server" enabled on them are Backup Server nodes):
Finally, after configuring the 3 x DataCenter services for the Log On As setting and saving the changes, you will need to restart those 3 x services that were changed and make sure that the status message after restarting each service informs you that the service was started properly. If you get an error verify the user that you specified for the Log On As setting was correct with the same password as how you created the user as. Note: The username and password here is case sensitive. Make sure to enter a blank Domain Name for the Log On As setting if it is a local account. Windows Services does not check that the password is proper until it goes to restart / start the service that was modified.
Note: For the matching guide for DataCenter 8.x services, read the article here.